At Giving Through Jewelry, 10% of all sales are donated to a charity of the buyers choice. We realize that there are a lot of charities to choose from so we would like to highlight some of our favorites. This month's featured charity is Pollinator Partnership Check out our FACEBOOK page at the beginning of each month to see how much was donated.
About Us:
We are working to protect pollinators and their habitat with projects all over the North America and globally. See what local and regional initiatives are active near you. We manage various programs that promote pollinator health and provide public and private partners with the tools to get involved. We work with a diverse set of partners including local, regional, and national governments; corporations; universities and others that are making exceptional pollinator protection happen across North America and beyond.
Our Mission:
Pollinator Partnership's mission is to promote the health of pollinators, critical to food and ecosystems, through conservation, education, and research.
Ways to Help:
 7 Things You Can Do for Pollinators
1. PLANT FOR POLLINATORS
Habitat opportunities abound on every landscape – from window boxes to acres of farms to corporate campuses to utility and roadside corridors – every site can be habitat.
Utilize plants native to your area (or at the least, non-invasive for your area).
Utilize the Ecoregional Planting Guides. Decide among the plant material options – seeds, plugs, plants or a combination.
Know your soil type and select appropriate plant material.
Plant in clusters to create a "target' for pollinators to find.
Plant for continuous bloom throughout the growing season from spring to fall.
Select a site that is removed from wind, has at least partial sun, and can provide water.
Allow material from dead branches and logs remain as nesting sites; reduce mulch to allow patches of bare ground for ground-nesting bees to utilize; consider installing wood nesting blocks for wood-nesting natives.
2. REDUCE OR ELIMINATE THE IMPACT OF PESTICIDES.
Where possible, avoid pest problems in the first place by burying infested plant residues, removing pest habitat, and planting native plants that encourage natural enemies of pests
Practice Integrated Pest Management (IPM)
If you are a farmer or pesticide applicator, check out our Pesticide Education Module
If you must use pesticides, read and follow ALL label directions carefully
3. REGISTER YOUR POLLINATOR HABITAT SITE
Be counted as part of the Million Pollinator Garden Challenge when you register
Available for every landscape – this free registry is utilized through as little information as a zip code.
Upload photos or videos of your pollinator site
Include your company or organizational logo
This registry will show profiles of the plants used in various gardens, allow us to measure pollinator progress, and highlight areas of activity and places in need of pollinator action
4. REACH OUT TO OTHERS – INFORM AND INSPIRE
Utilize all the materials available to help you tell the story of pollinators
Especially during National Pollinator Week (June 17-23, 2019)
Tell local and state government officials that you care about pollinator health
5. SUPPORT LOCAL BEES AND BEEKEEPERS.
Buying local honey supports the beekeepers in your area
If you're concerned about the number of chemicals use in agriculture, buy organic.
If you're concerned about contributions to global carbon emissions, buy local.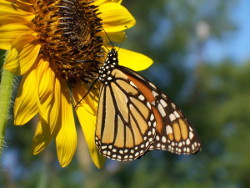 6. CONSERVE ALL OF OUR RESOURCES; USE LESS AND REDUCE YOUR IMPACT.
Pollinators are dramatically affected by extremes in weather
Climate change puts pressure on native ranges and overwintering sites.
7. SUPPORT THE WORK OF GROUPS PROMOTING SCIENCE BASED, PRACTICAL EFFORTS FOR POLLINATORS.
Thanks to people like you, our work for pollinators and P2's programs are made possible. You can choose to donate one-time only (BELOW) to the Pollinator Partnership or any of our programs (ABOVE) or in various ways (RIGHT). Your gift will not only benefit pollinators, it will benefit us all. Bees and other pollinators are threatened, but with your support the Pollinator Partnership is finding ways to help them. We will ensure your gift goes where it's needed most.
DONATE BY MAIL
Download a donation form and send your contribution to:
Pollinator Partnership
475 Sansome St., 17th Floor
San Francisco, CA 94111
If you have any questions about giving, please contact us:
Pollinator Partnership
475 Sansome St., 17th Floor
San Francisco, CA 94111
Phone: 415-362-1137
info@pollinator.org